A paver is any paving stone, tile, brick, or concrete block that resembles a brick which is mostly used as outdoor flooring. Pavers are sturdy blocks that are used to create hard, flat surfaces outdoors. You can buy pool pavers Sydney to construct patios, roads, outdoor staircases and platforms, as well as other exterior structures.
Concrete and a colouring agent are mixed, then poured into variously shaped moulds to create pavers. To create pavers, you can use everything from glass to plastic to concrete. You can even use stone, brick, and even clay. Pavers come in a range of textures, shapes, colours, and sizes.
There are two distinct paver types. These are stone and interlocking concrete pavers. Interlocking concrete pavers, commonly referred to as segmental pavers, are a fairly common substitute for clay, brick, and concrete. Stone pavers are robust, attractive, and long-lasting materials used for construction. These stone pavers come in travertine, granite, basalt, sandstone, limestone, and bluestone varieties.
What is a pool deck?
A pool deck is a space that is immediately around a pool. It is a secure and non-slip surface around the pool. When it's time to unwind, people can swim, sunbathe, and enjoy the neighbourhood. The pool deck is a more important factor when designing outdoor swimming pools. In addition, it can offer a more durable surface than stone and wooden decks.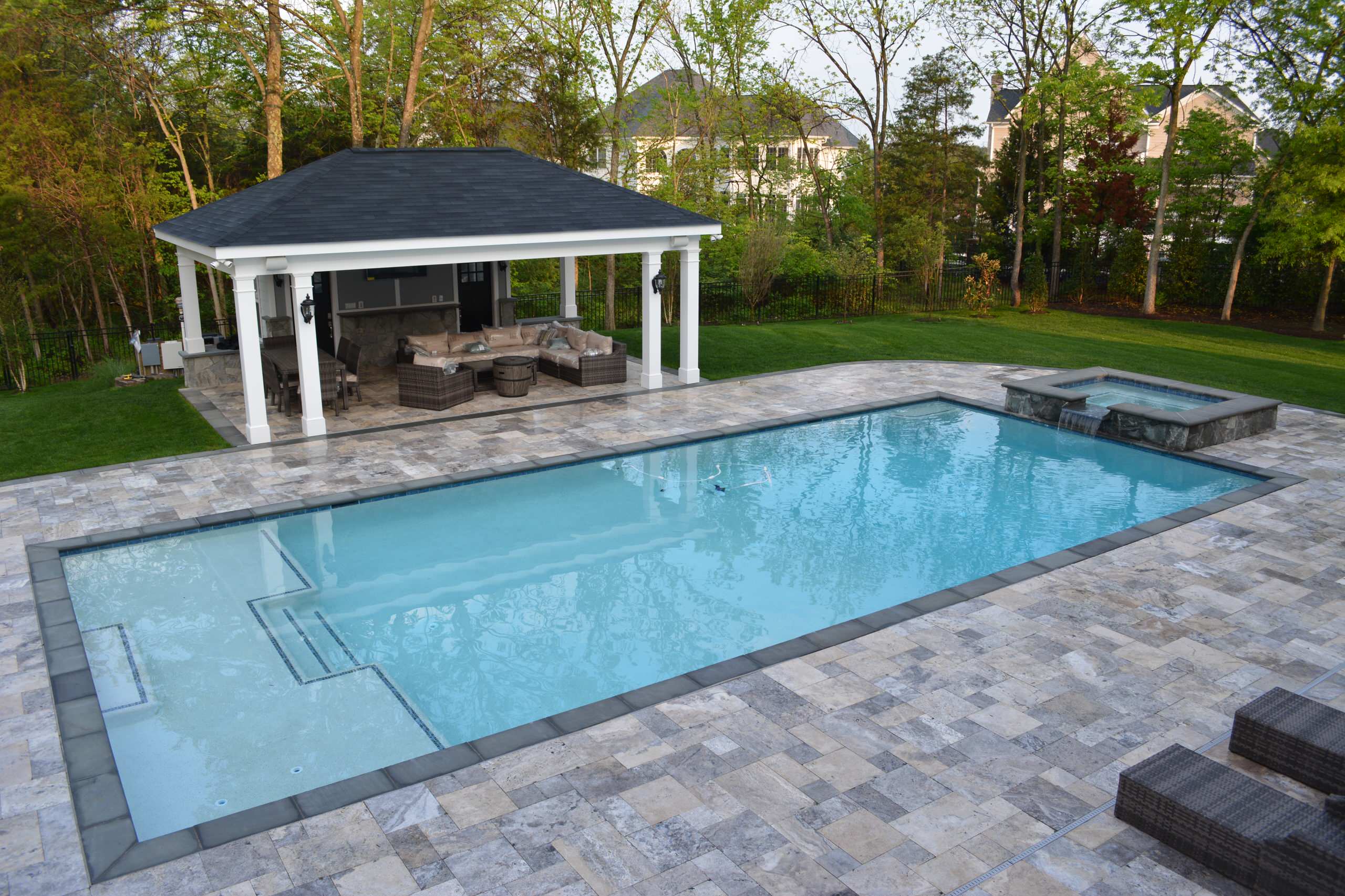 What are pool deck pavers?
The pool deck pavers are essentially rectangular pavers that are used specifically for the construction of an outdoor swimming pool area. These pavers are available in numerous patterns, colours, shapes, and dimensions. These attributes enable these pavers to inspire a variety of design ideas.
Materials used for paving pool deck
One of the key components of the poolscape is the space around the pool. It not only serves as the focal point of the party but also greatly influences the character and aesthetic of the pool. The best pool decks can be created from a range of natural and artificial materials, but those made of natural stones are the ideal complements to elaborate pool designs.
You can buy pool pavers Sydney that comes in a wide range of organic and artificial materials. The materials commonly used are the clay, concrete, bricks, sandstone, limestone, travertine, bluestone, granite, and basalt. Every kind of paving material has a variety of advantages.
Here are the types of pool pavers commonly used around swimming pools:
Granite:
Granite is a long-lasting choice for your pool deck because it is a very robust and hard stone. For further protection, you can apply a non-slip surface treatment like tumbled, honed, or flamed. Furthermore, it requires little upkeep, saving you time and frustration. Granite can be used as patio pavers or cut into irregular shapes that can be used for pool decking.
Granite is an easily accessible igneous rock that is mined all over the world. Its granular pattern makes it easy to identify. Granite is resistant to cracking and splitting and can support heavy loads. Granite can be slightly costly, particularly if you desire it in uncommon colours like pink and black.
Marble:
Marble is clearly the best option if you want a rich and elegant pool deck paver material. A stunning option that may elevate the look of the entire pool area is white marble. Despite being highly attractive, marble becomes wet, which some people may not like.
The cost of and difficulty in maintaining marble exteriors seem like a problem, but it is negligible. If you are hesitant because of marble maintenance costs, you can use marble if you are living away from harsh weather conditions that pools and spas experience. Harsh conditions can include snow, wind, and rain. You can use marble confidently if you plan for an indoor pool.
Slate:
Slate is an additional well-liked natural flagstone material for pool decks. It has excellent texture to lessen slipperiness and is particularly resistant to unpredictable weather. A slate deck can survive for many years if installed and maintained correctly. The greatest trend in outdoor space decoration right now is using pool pavers Sydney in pool decks. 
This flagstone is available in broad slabs. Although flagstone normally comes in shades of grey, a variety of other colours are also available, such as dark blacks, greens, blue-greys, and red. Because slate is frequently used in other hardscaping components, such as paths, it blends in well with your current landscape design.
Limestone:
A sedimentary rock with appealing patterns and a gritty appearance, limestone has a tendency to change colour. Because of its porosity and anti-slip surface, limestone is a reliable material for pool decking because it won't cause water to collect or people to slip.
Another reason limestone makes an excellent pool deck paver is that it is extremely heat- and cold-resistant. In spite of the sun's rays, the stone will stay cool, so you won't have to worry about your bare feet getting burned on warm summer days.
Coral:
Natural-looking materials like coral or fossiliferous limestone make for gorgeous pool deck paving. Coral, coral, and shell fossils are all combined to form compacted sandstone or limestone fragments. It's feasible to observe how all these little components come together when closely studied. This material, which is also known as a coralline fossil, is exceptionally slip-resistant.
Coral is remarkable for its durability in the face of pressure and harsh weather; it can even tolerate seawater. Even after extensive contact with chemicals and pool water, you can count on a coral pool deck to survive.
Quartzite:
One of the toughest pool deck pavers available is quartzite, which is even harder than granite. Off-white, beige, brown, and light grey are just a few of the many colours of this strong, resilient rock.
However, the rich texture this stone offers is what makes it so amazing. If you want to create a pool deck that is genuinely one-of-a-kind, you will value the distinctive grains and veining on each stone.
Final thoughts:
There is no one right answer if you ask which pool paver you should use. Your preferences will determine which paver you will buy. The price point is one such priority that some individuals may place on safety or aesthetic appeal, for example. The good news is that you have several options for pool pavers Sydney when designing your pool deck. Working with the experts will ensure that you discover something that matches your style.